| | |
| --- | --- |
| Posted on 10 October, 2022 at 14:20 | |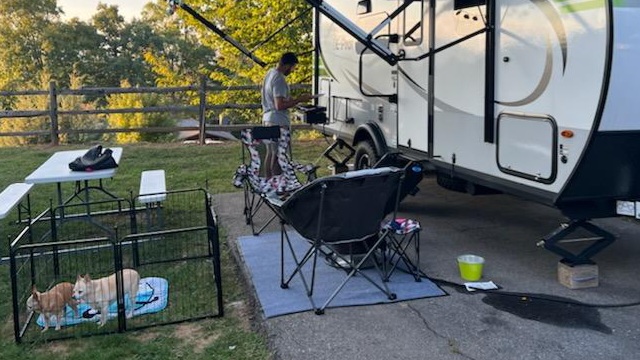 Every individual pet is different and my opinion may be something you want to argue against as you're reading this. That being said, this is my own experience of how I've adjusted to travel with smaller dogs while camping with my RV.  Embrace the part of the RV experience where adaption to new situations is an element of the memories to come later.  What is a big deal today will be a running joke later. 
Firstly, know the personality of your pet and be preemptive in how you are accomodating their exposure to camping for the first few times. It's natural for them to become defensive when faced with a new environment that includes sounds, smells, and even a new physical sensation of "being outside". Make sure to take their home with you in whatever way you can manage. This can be their specific sleeping bed, their water bowl, or toys that they specifically play with daily. This will help them to acclamate to the new experience by having something familiar.
Next up would be keeping their food consistent and not overfeeding them before, during, or after your trip. I'd also recommend a short trip that is near your home for your first outing because of this too. If you overfeed them before leaving they're more likely to vomit during the ride and that elevates their anxiousness and your own. During the trip they're still going to be apprehensive about everything which means they'll either overeat for comfort or not eat at all. The not eating at all is a better outcome as this won't inherently mean they're associating the travel with anything negative versus again throwing up or making themselves sick in general.
Third would be my recommendation of finding items to restrain them; safely. This also sounds bad, at first read, but is there to protect them and keep the experience moving in a positive direction until their behavior is more anticipated. The worst thing ever is having a pet become fearful and put themselves in a dangerous situation. There are vehicles moving around, RVs coming and going, and also other pets walking nearby besides the more indirect dangers of exposed wiring, plumbing, and even a cliff. A cliff might sound dramatic but as I am writing this I am less than twenty feet away from a sixty foot dropoff near my camper and my small dogs could easily walk off without realizing what would happen to them. So, find a good harness, a solid leash, a yard stake, an appropriate sized kennel or better yet a playpen that can be carried and setup when you arrive to your destination.
This is a very short article but I felt it needed to be said as I was absolutely unaware of what would come along or what to anticipate before being in a campground trying to navigate camping with pets. 
Categories: None
/